Event date:
Friday, December 22, 2017 - 12:00pm
Sometimes we just don't get our numbers right! We either order too many of one title and are stuck with an embarrassing pile, or we order what seemed like a healthy number, thinking we can always order more if we run out, only to find that when we do the publisher is out of stock too, and a reprint could take weeks. This happened to us with Obama: An Intimate Portrait by Pete Souza.
We have sold out!
We had kept one slightly damaged copy out of its cellophane cover for people to look at, and today we decided we would raffle it off. Tickets will be $5 and we will make the drawing on December 22 at 12 noon. All proceeds will go to our Direct Relief fund to help all those effected by the floods and fires in Houston, Puerto Rica and, closer to home, Sonoma.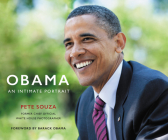 $50.00
ISBN: 9780316512589
Availability: Usually Ships in 1-5 Days
Published: Little Brown and Company - November 7th, 2017
---